Our journey
We began our journey in the year 2011 by offering affordable holiday packages to the residents of the UAE. Our team have had years of experience living, working and travelling the destinations we offer, which made our packages extraordinary and first of their kind on the market. And people started to notice.
As a result, what started as a small company with five destinations has rapidly developed into an award-winning pioneering business in the travel industry. With our German background, we brought advanced European standards to the travel industry in the Middle East and continue to grow and expand beyond the original boundaries.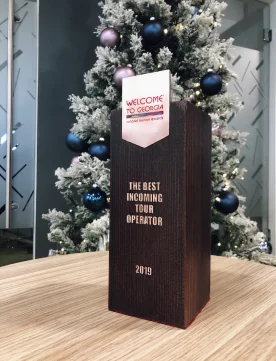 Along the way, we've been honoured and humbled that others have seen the merit in what we do. Among other recognitions, Holiday Factory received the prestigious "Emerging Leader Award in Travel & Tourism" by Khaleej Times in 2018, followed by the "Travel Company of the Year" award at the Middle East Hospitality Excellence Awards in 2019.
We are also very proud to have our name connected with the beautiful Caucasus country of Georgia. Back in 2015, when Georgia was yet to be known to the Middle Eastern market, Holiday Factory started promoting it to our residents as a tourist destination. As a result, Georgia is now one of the top three holiday hotspots for people travelling from the UAE. Consequently, our efforts were recognised, and we were awarded "Best Incoming Tour Operator" by the Georgian Ministry of Tourism in 2019.
As a result of this success, we have decided to embark on a new and exciting journey by starting an outbound travel business from Georgia to the UAE, to do our bit for the country we call our home and help boost the tourism industry of the UAE by bringing in more tourists.
Our passion
We believe that everybody deserves a trip of a lifetime and that the smartest way to accomplish that is to let someone else do the work. And this is where we come into our element. We gladly do all the heavy lifting, digging and planning so that you can simply pack your bags, put that out-of-office on and not worry about a thing as you embark on your adventure.
And with our unbelievable prices even on luxury holidays, our customers can have not one, but ten trips of a lifetime!
Our product
Our holiday packages present the chance to experience both popular and little-known aspects of the destinations, giving you an insight into the diverse character and culture of the country you visit. Many customers travel with us repeatedly, as there's always something new to discover and new and exciting destinations to launch. We're always on the lookout for new and unique experiences.Curiosity never killed the cat, boredom did.